Ch
ilika is largest coastal lagoon along the East coast of India Located in the state of Odisha . The lagoon has a catchment area of 3500 sq.km. The water spread area varies from 1165 sq.km in the rainy season to 906 sq.km in the summer season. The ecosystem of Chilika comprises tidal ingress from Bay of Bengal, which mixes freshwater brought by rivers like Mahanadi, Daya, Bhargabi  and  other river along with large number of rivulets.
What is its significance?
It is the second largest brackish water lagoon in the world. It is a 'Paradise for water birds'.
 

The lagoon hosts over 225 bird species in the peak migratory season, with 97 species being intercontinental migrants. 

Over a million birds find their way to the Chilika lagoon every year. Birds from far off places like Caspian Sea, Lake Baikal, Aral Sea, Kirghiz steppes of Mangolia, central and south East-Asia, Ladak and Himalaya s migrate to this place. 

The water bird diversity is also important indicator of the health of a wet land. 

  

White bellied sea eagle is the flag ship species of Chilika. 

The lagoon is the habitat for largest congregation of water fowls in India.
How is it unique in biodiversity?
Chilika is one of the hotspots of biodiversity in India with unique assemblage of marine, brackish and fresh water ecosystem. An extremely productive environment due to efficient nutrient cycle. 
It shelters a number of endangered, rare and endemic species listed in the IUNC red list of threatened species. 
v

  
Barkudia skink, a limbless  lizard
It sustains more than 150000 fisher-folk living in 132 villages.
Apart from the above, chilka lake is a important habitat for many flora and fauna.
Any Recognitions for this wonderful place?
On account of   the unique value of this lagoon ecosystem, Chilika lagoon has been designed as a wetland of international importance under Ramsar convention, 1981.

 

The Chilika development authority has been conferred the prestigious 

Ramsar wetland conservation award,2002

 for its role in successful restoration  work  in Chilika lake.

 

It has been also conferred

Indira Gandhi paryavarana puraskar, 2002.
Any important species in particular?
There are numerous islands in the Chilika lagoon, which have a total area of 223 sq.km. They provide important niche s for birds and other species.
Barkudia insularis, is a limbless lizard was found in loose earth near the roots of a Banyan tree of Badakuda island of Chilika lagoon in 1917 and rediscovered in the year 2003. It is endemic to Orissa.It is available in only two locations: Barkuda island in Chilika lake, Nandankanan, Biological Park. Cuttack district. It included in the red list category of IUCN (International Union for conservation of nature) as critically endangered.
It is also known as snub fin dolphin. 
It is listed as 'vulnerable 'on the IUCN red list of threatened species. 
A distinctive dolphin with a rounded head and no beak.

It is a oceanic dolphin occurs in shallow, coastal waters of the indo-pacific and also occurs in three large river system-the Ayeyarwady in Myanmar, the Mekong in Cambodia, and the Mahakam in Borneo, Indonesia. 

The present count of these dolphins in Chilika lagoon is 121 individuals

.

The estimated Worldwide population of Irrawaddy dolphins is about less than 7500, out of which 6000 are in Bangladesh.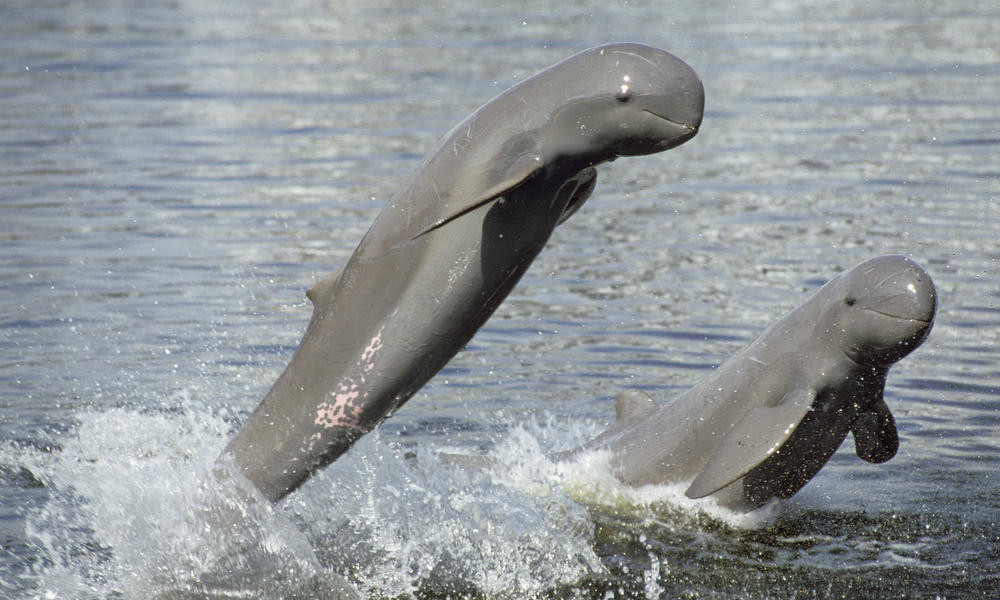 Habitat loss due to dams, deforestation, mining (sand and gravel).\

 

Pollution from agro chemicals.

 

Entanglement in gillnets
If visited what are the tourist activities available?
 

Nalabana bird sanctuary

 

Bird watching, Dolphin watching

Boating

 

Fishing

Wetlanf viewing

Camping